Overview
The Magento2 Order Preparation extension optimizes your order fulfilment process in terms of accuracy and efficiency :
Open orders are categorized by status, providing a clear overview of all orders-in-process at a glance
Barcode scanner integration helps you reduce the risk of product mismatch
Provides a pick / pack / ship process to guide your team through order fulfillment
Professionalize your warehouse team with a streamlined and efficient process :
Picking: Simplify product picking by adding shelf location to the picking list
Packing: With the help of a barcode scanner, you are sure to pack the right product for every order
Shipping: Export order information to your designated carrier's system and save the tracking number in Magento, all with one barcode scan
Orders distribution
The Magento 2 Order Preparation extension categorizes orders in 3 groups according to order status:
The In-stock group contains all orders that are ready to ship (all products are in stock)
The Backorders group contains orders with at least one missing product (you can also choose to process a partial shipment)
The On-hold group are orders that are flagged NOT to process for various reasons, configurable using the custom order status tool

This configuration allows you to easily identify and select which orders you wish to ship
Picking
Once you have selected orders for shipment, you can print a picking list. Order Preparation is configured for two picking methods:
Global Picking produces a list of all of the products needed to fulfil the orders selected, grouped by product :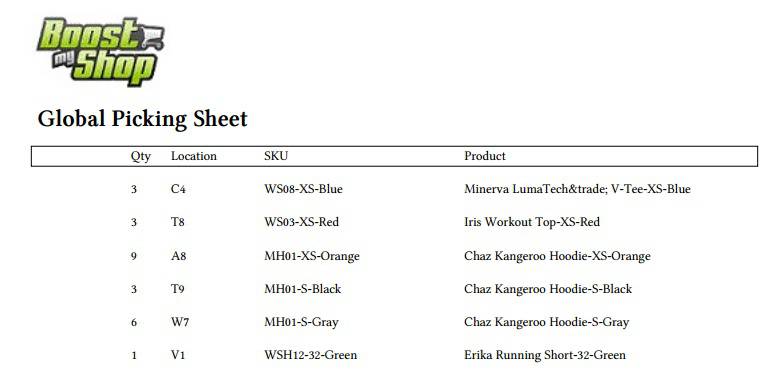 Per-Order picking produces a single list per order including shipment and product information :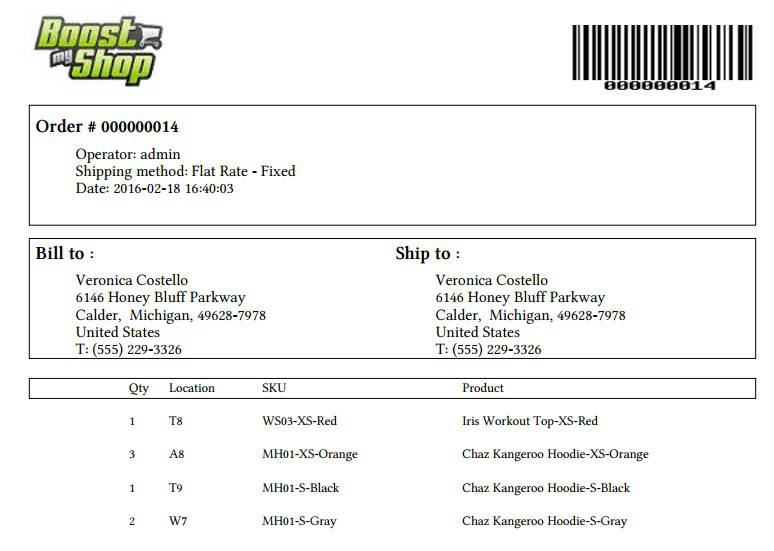 The system also displays the product's shelf location to speed-up the picking process.
Packing
Once the products have been picked, the next step is to pack the correct product for each order. Scan the barcode on the picking list to see the order details and product quantities, which will help to prevent packing errors.
You can then scan the product barcode or manually check each product before packing to ensure that you have chosen the correct product(s).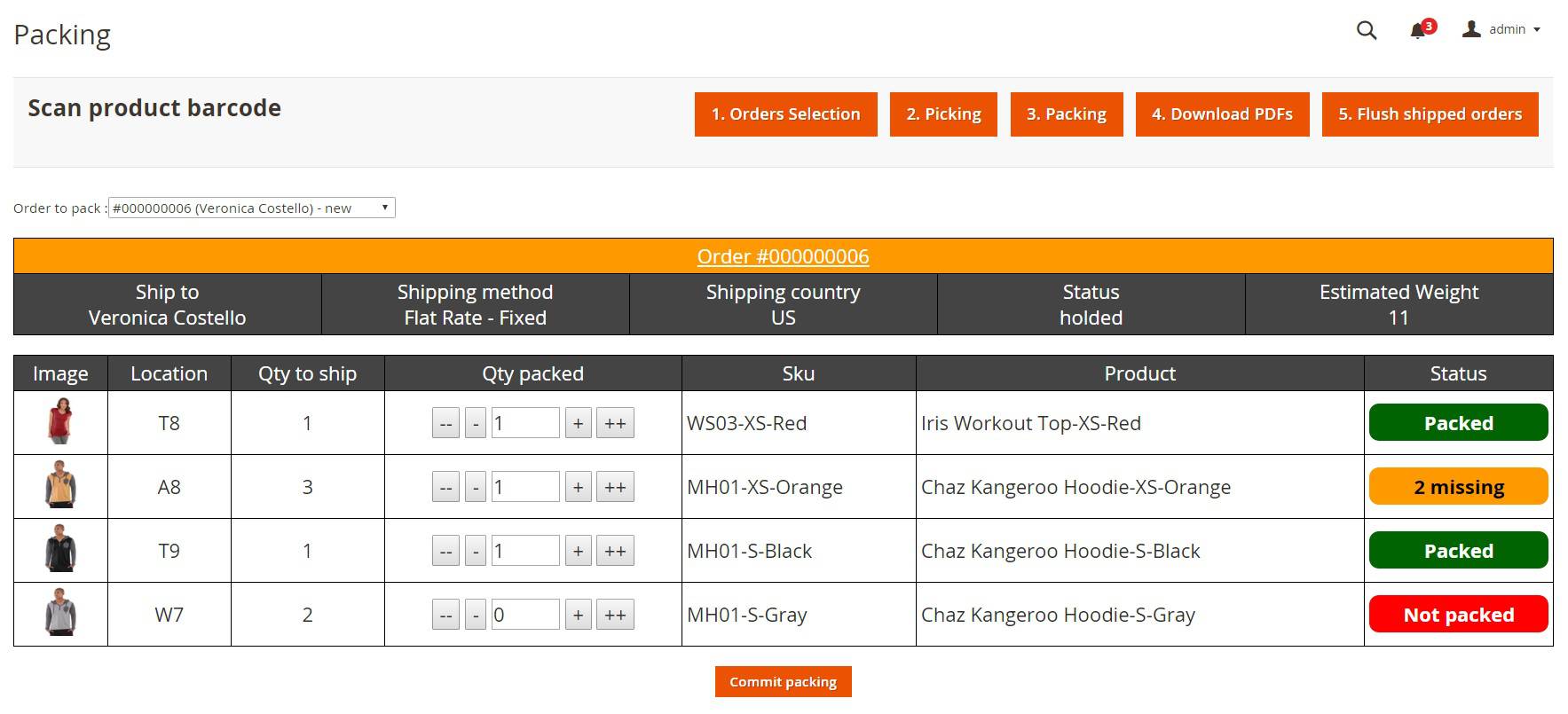 Once the products have been scanned, Order Preparation allows you to confirm the order. The Magento shipment is created and an invoice and packing slip are downloaded automatically (if configured). With Magento Client Computer (a free software included), you can automatically print these documents to add to the package.
Shipping
Shipping is the final step in order fulfilment. All that is left to do is print the shipping label, save the tracking number in Magento and notify your customer that their order has been shipped.
A universal method for printing shipping labels is to export a csv or xml file into your carrier software. Popular carriers such as UPS, USPS, Fedex, Royal Mail, Colissimo (and many more) all support this method. However, the order detail format can vary from from carrier to carrier.
To resolve this issue, you can designate a specific file template for each carrier using the shipping label template feature. When configuring a template, select the export file type (csv, xml, others) and fully customize its content with the order details, address and product information.
Once packing has been confirmed, Order Preparation will automatically download the correct template file for your carrier and the shipping software will then print the label.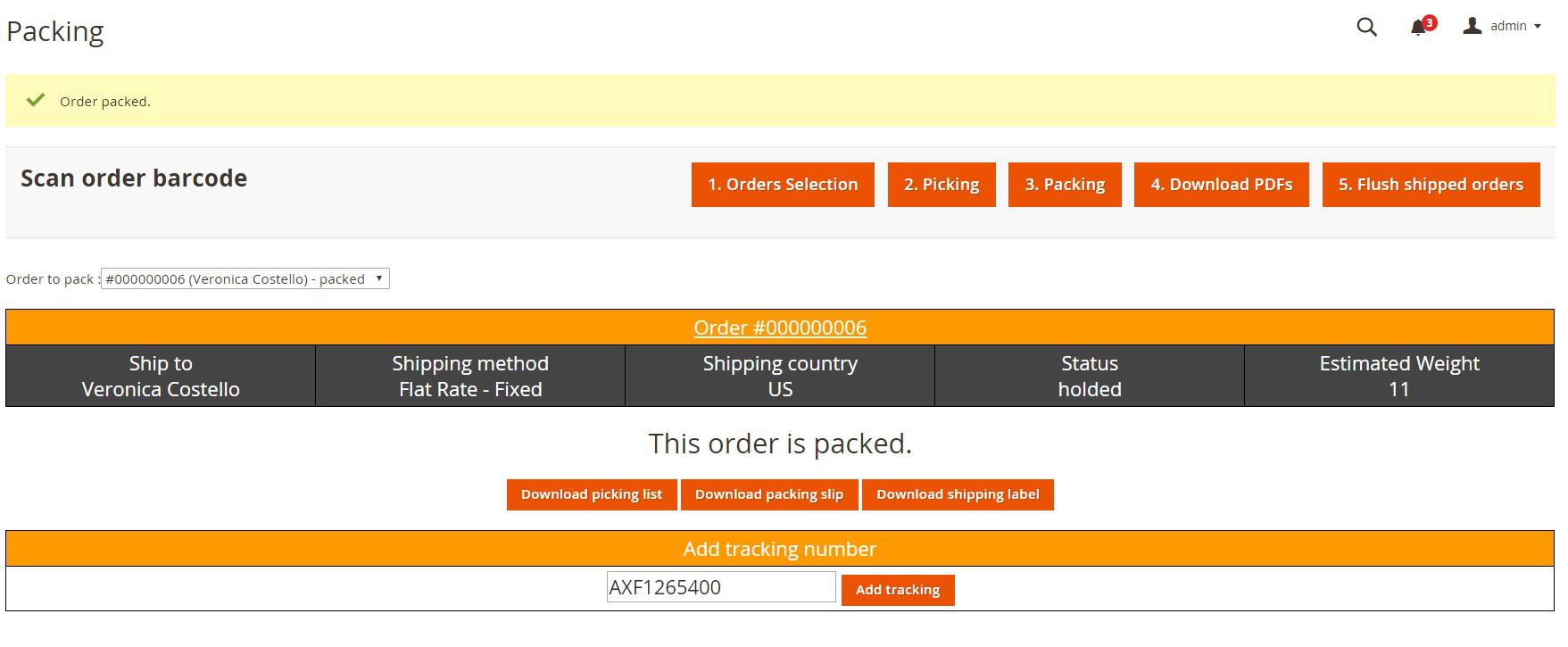 At this point, the system requires a barcode scan. Simply scan the shipping label barcode and Order Preparation will save it within the Magento order. Icing on the cake: the customer is immediately notified with the shipping details and tracking information
Commentaires
Excellent Magento developers!
I purchased the Order Preparation extension from Boost My Shop for Magento 2 and I couldn't be more pleased with it. It has dramatically reduced our order preparation time and eliminated issues we were having with orders being missed or statuses not being updated. The team at Boost My Shop are always super quick to respond to support tickets and resolve any issues that arise. I can't recommend the ...
---
---