Présentation
Un assistant pour drop shipper vos commandes
Drop ship est un plugin pour Embedded ERP vous permettant de traiter facilement et rapidement vos commandes en Drop Ship
Tout d'abord, définissez les fournisseurs disponibles en drop ship par produit à l'aide des association Produits / fournisseur de l'ERP.
Ensuite, lorsqu'une nouvelle commande est passée, si elle contient des produits pouvant faire l'objet d'une expédition par un fournisseur, elle sera affichée dans l'écran des commandes Drop Ship en attente.
Pour chaque commande, vous pouvez :
Envoyer une demande de drop ship à votre fournisseur afin de vous assurer que ce dernier peut y répondre favorablement : après envoi de la demande, la commande sera affichée dans l'onglet "En attente fournisseur". Une fois que vous avez la confirmation, vous pouvez valider la demande.
Envoi direct de demande de Drop Ship : un email est envoyé au fournisseur avec les informations de la commande, les produits ainsi que les PDF de facture et bon de livraison. En même temps, une commande fournisseur est générée pour garder trace de l'envoi et l'expédition de la commande client est validée.
Tenez à jour les stocks et prix de vos fournisseurs
Notre extension est également capable d'importer automatiquement des fichiers CSV à partir d'un FTP fournisseur afin de mettre à jour les prix d'achat et les stocks de vos fournisseurs toutes les nuits : pour chaque fournisseur, configurez l'accès FTP et le format du fichier CSV à importer
Ce plugin nécessite Embedded ERP, il ne peut pas fonctionner seul
Dropship management center
A single screen to track drop ship orders
Drop Ship extension introduces a new screen dedicated to track drop ship orders :
This new screen is designed to easily process new drop ship orders but also to track drop ship status for orders : it handles the following workflow, you are free to skip a step if you dont need them :

New orders
Dropshipping module is highly configurable to set conditions to select orders that can be drop shipped based on your stock level, suppliers stock levels, order status, product / supplier drop ship enabled.... Once an order (or a part of the order) fullfill those requirements, the products are displayed in the control center to be processed.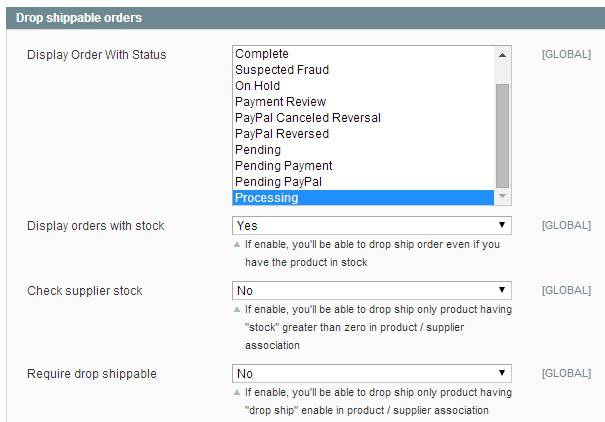 You can then process the products using 3 available actions :
Send a quote request to every suppliers to get the best deal
Send a dropship request to your supplier
Send the drop ship to your supplier if you know that he can handle your request (with previous phone call confirmation for example)
Quote request
When you have do dropship large quantities, or if you can dropship a product via several suppliers, you may want to do a quote request to every suppliers first, to optimize the cost. With the Drop Ship extension, you can do it with a single click : select the "Price request" action for the product and confirm : then it sends an email to every suppliers associated to the product to get a quote.
Once the request is sent, products are moved to the "Pending price response" tab for future reference : once you get the response from your supplier, you can select the best offer and process the dropship with the selected supplier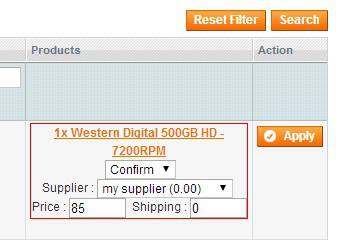 Dropship request
When you send a dropship request to a supplier, the extension sends an email to the supplier summarizing the product information in the email body : you can of course customize this email using Magento transactional emails to give your own identity to the email.
Depending of the settings, the email can contain additional attachments :
Packing slip PDF for customer (the original magento packing slip, customized if you did it), this way the supplier can send the parcel with your own documents
Purchase order PDF
Csv OR Xml drop ship information including customer address, order, shipment and products information, for automatic integration within your supplier ERP
Supplier confirmation
With this optional step, you can track drop ship request approved by your supplier : confirming supplier approval, you can correct the product prices, shipping fees and fill the purchase order number from your supplier. Once confirmed, the drop ship order goes in tab "Pending shipping confirmation".

Shipping confirmation & customer notification
When supplier confirm the order shipment to your customer, you can easily fill the parcel tracking number and notify customer about the shipment : it will send a regular magento shipment notification including tracking number.
At this step, Drop Ship module will also create shipment for order and toggle order status.
Sales and purchase
Drop ship extension uses Embedded ERP purchasing features to associate a purchase order to every drop ship :
When you create a new drop ship, a purchase order with products is automatically created
When you update PO reference, prices or shipping fees, the associated purchase order is automatically updated
When you update drop ship status, Purchase Order status is also updated (new > pending supplier response > pending supplier confirmation > pending delivery > complete)
When supplier confirms the shipment, purchase order delivery is created and PO status goes to complete
To ensure an efficient tracking, a new tab is available in sales order to view associated purchase order(s) :

Commentaires
Great Support when needed
These guys know their stuff. Their extensions are not your normal run of the mill - but complicated bits of software - it is the main reason why we use magneto. They offer excellent & friendly support - keep up the good work!
---
---